With Independence Day approaching, there was no question – we had to add a little spark to our images with fireworks!
4th of July
and fireworks – they go hand in hand right? YES! And everyone loves fireworks right? Well . . . not everyone.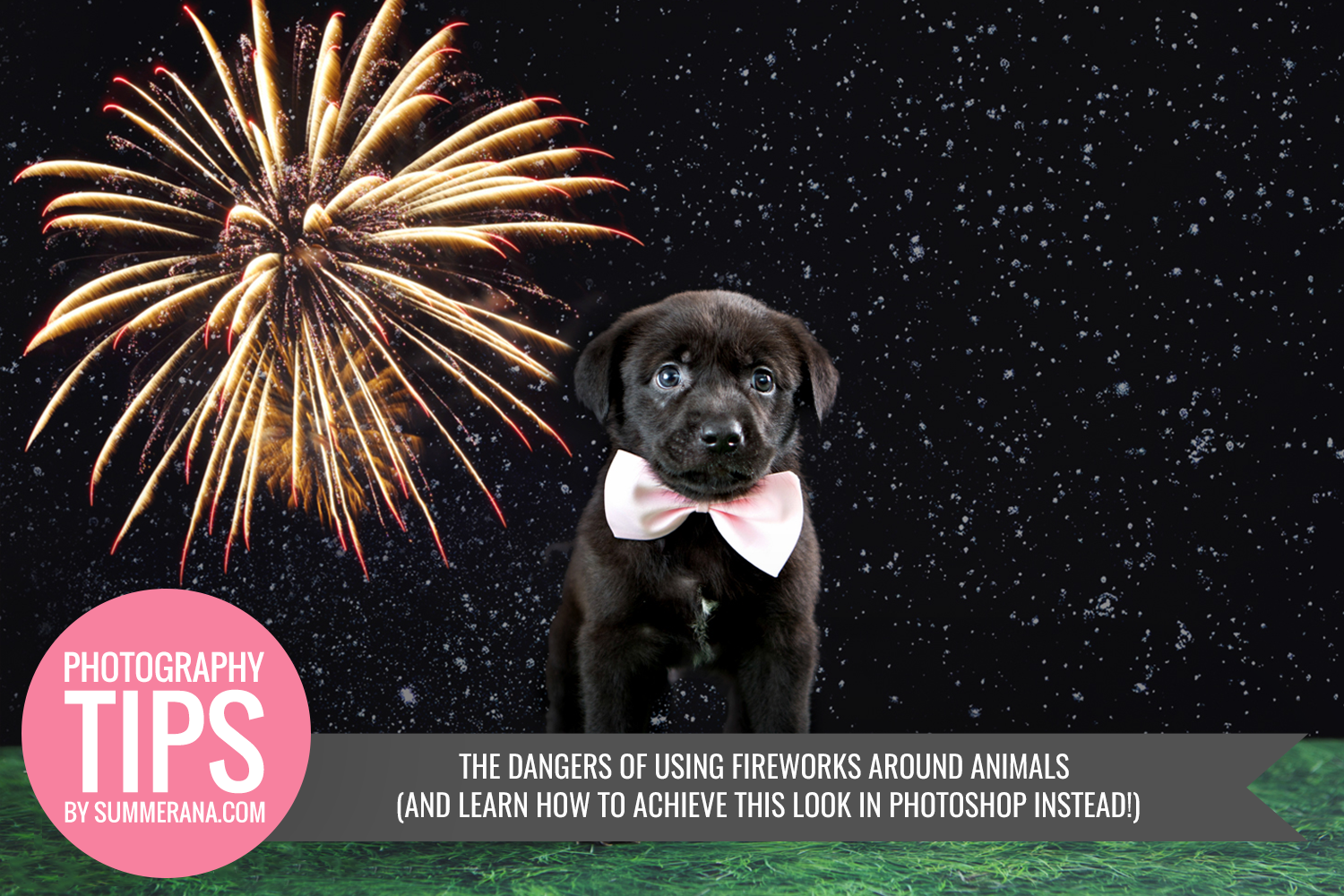 How fun are these images using
Summerana's

Midnight

Fireworks Collection
from our (DesiLu Photography) latest Project Pearl Session with the Forsyth County (NC) Animal Shelter? (Project Pearl you say? I'll explain more about this amazing program in a bit!)
According to
petamberalert.com
there is a 30 – 60% increase in lost pets each year between
July 4th and 6th
.
And
July 5th
is one of the busiest days of the year for shelters.
These adorable, ADOPTABLE animals at Project Pearl were calm and comfortable during the session because we had the luxury of adding in the fireworks in post production with
Summerana's

Midnight

Fireworks Collection
! These easy to use actions made it simple to bring our vision for this session to life but also to help us spread a very important message about Pets and Firework safety this Holiday Weekend.
We loved the outcome of these images but fireworks and pet are not normally such a cute and safe combination. The noise and light can cause severe anxiety for even the most "settled" pets.
This REALLY hit home for us on a personal level. At a friend's cookout last year, early in the evening and before we had a chance to secure our dogs, someone nearby shot off some fireworks.  Knowing our big dog, Desi was terrified of fireworks both my husband and I went racing after her but before we even knew what was happening our beloved 10lb rescue, Lil Ricki was gone and no where to be found.
We spent the next day putting up signs , posting on social media and wandering through the surrounding woods with the help of our family friends, and even surrounding neighbors that our friends had never met. Though micro-chipped and tagged we began to lose hope when met people who had seen her earlier in the day miles away. But luckier than most, and beyond our wildest dreams, she found her way back to us in the middle of the night a couple of days later. We're posting this pseudo PSA in hopes that no one else will have to endure the same type of ordeal.
SO . . . how can you keep your pets safe this holiday? We've compiled a short list, but also included are some links if you would like to read more about how to keep your pets safe during the
July 4th
festivities.
1) Stay inside: Try to keep your pet indoors at all times during holiday celebrations. Ideally, someone stays home with your pet. Also keep your dog leashed when going out for walks.
2) Make them feel safe: Comfort your pets with petting, hugging, talking to them in a soothing voice, providing a treat and staying nearby if possible. Make sure they can access their crate or "safe place." Also ask your veterinarian or local pet retailer about natural calming products, anxiety wraps and other products that can help.
3) Avoid the noise. Try to drown out the fireworks sounds as much as possible by closing windows, playing music or turning on the TV.
4) Act normal! Your pet takes cues from your and your family's actions. It will help if you go about your normal routine as much as possible, talking and playing with your pet as usual.
5) Protect your pet before the fireworks begin. There are a number of lost-pet devices and services available today, and it's wise to be proactive in case your pet gets lost. Among the various pet-finder services available, the Pet Amber Alert ID Tag/Pet GPS combines Amber Alert technology with a QR Code and pet GPS to help MORE lost dogs, cats and even birds return home safely.
By following these tips, hopefully fewer families will face the heartbreak of losing a pet during the July 4th
holiday. [source]
Finally, let's talk about Project Pearl! Simply put, we love them. They are a non-profit rescue that works directly with Forsyth County Animal Control. Through the program, professional photographers donate their time to photograph the adoptable animals at the shelter. Cute pictures equals more adoptions and more animals saved! Our fur babies are an intricate part of our life, and we could not be more proud to contribute to this program.
For more information on this award winning non-profit organization or to donate to their medical foster program that is helping to save the lives of so many animals at our local shelter visit their website here.
And for more information on the adoptable animals at Forsyth County Animal Shelter visit their Facebook page here.
How to Achieve this Look in Photoshop Instead:
With all of these reasons to be wary, keeping fireworks away from animals may be the best bet. Using firework overlays and Photoshop actions to recreate their effects will not prevent you from losing out on the artistic effects, and will keep both you and your clients/pets safe. Additionally, this is a great opportunity to up-sell/cross-sell to previous clients as you can later add firework overlays to images for print for the Holidays. And of course if you or your party do decide to use fireworks, be sure to use proper safety precautions.
If you'd like to achieve this look in Photoshop instead, you can apply overlays of fireworks already shot in a safe environment. Your clients will not need to be put in harm's way, and they just might be fascinated with how you did it after the shoot! Using the Midnight Fireworks overlay and action collections in Photoshop, you'll be able to effortlessly apply your overlays with applicator actions, turn your your photos into night time with the night prep actions, edit your fireworks by customizing their color, adding blur, firework glow, etc. and so much more with the included action collection.
Watch it in action here:
If you have used a firework overlay for your image, why not show them off? We'd love to see them, so add your links to the comments below!