Summerana is officially 5 years old!  I have met such wonderful photographers and vendors alike in our community and I couldn't be more grateful for you. There are literally only a few countries we have not served photographers from (all countries that are dark and light blue are where our photographer friends are from, crazy right?!) and it's such a blast knowing you. It's been a whirlwind of 5 years and I'm stoked to be celebrating our birthday with you!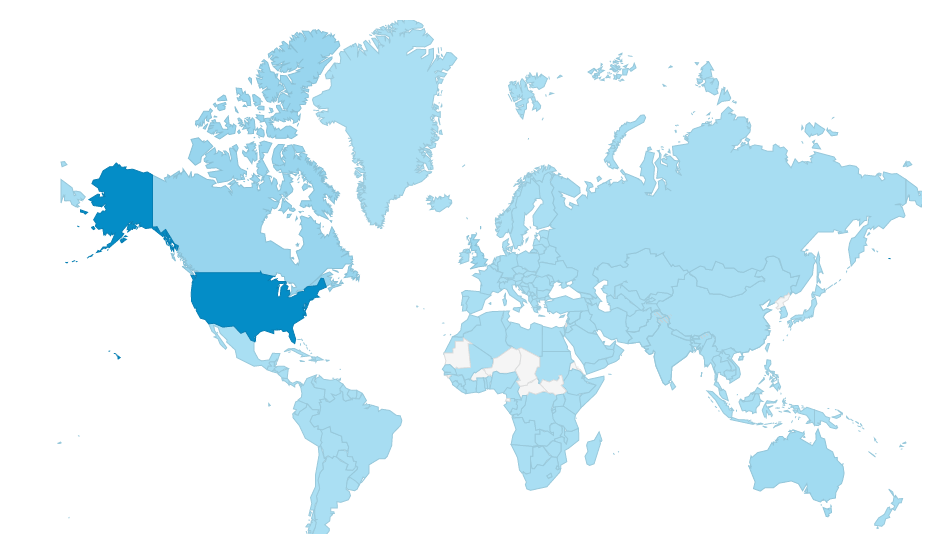 To thank you for your friendship, I am so excited to offer you a chance to win photography prizes from some of my favorite vendors, which we truly hope might help grow your business. There will be 5 days of giveaways, with a winner being announced each day!
GIVEAWAY DETAILS: 
The 5 Day Birthday Bash Giveaways will end each night at 11:59p.m. CST. One winner will be chosen each day via that days Rafflecopter and will be announced on our Facebook Page and email newsletter the next day. You will have 48 hours to claim your prize so be sure to sign up for our newsletter so you don't miss out on the announcements!
To enter, simply complete any of the steps in the Rafflecopters below on the day of it's giveaway. The more steps you complete, the more entries you will have! <3 NOTE: All entries will be verified if chosen as a winner, please be sure to follow the steps accurately to not chance being disqualified. Also please note that none of these entries are mandatory and no purchase is necessary to win.
DAY 1:
October 14th – Giveaway prizes include:
Choice of a Intuition Backgrounds 78×56 fabric backdrop – $175 value – Website
Theit Mamarazzi/Momtog Keychain – $35 value – Website
Rainey's Closet $50 Boutique Clothing Rental Gift card – $50 value – Website
Choice of a Camera Coats Camera Scarf Strap – $25 value – Website
DAY 1 WINNER: Barbara Larabee
DAY 2:


October 15th – Giveaway prizes include:
Rainey's Closet $50 Boutique Clothing Rental Gift card – $50 value – Website
1 Annual Membership to the Clickin Moms forum – $60 value – Website 
Shoot for the Moon Images & Product Shop digital backdrop – $10 value – Website
Choice of a Camera Coats Camera Scarf Strap – $25 value – Website
DAY 2 WINNER: Joanie Bloomfield
DAY 3:
October 16th – Giveaway prizes include:
Bentley and Lace $100 Boutique Clothing Rental Gift card – $100 value – Website
Rainey's Closet $50 Boutique Clothing Rental Gift card – $50 value – Website
Choice of a Camera Coats Camera Scarf Strap – $25 value – Website
DAY 3 WINNER: Karen Sanders
DAY 4:
October 17th – Giveaway prizes include:
Anna Triant Couture $100 Boutique Clothing Rental Gift card – $100 value – Website
Choice of a Intuition Backgrounds 78×56 fabric backdrop – $175 value – Website
Theit Mamarazzi/Momtog Keychain – $35 value – Website
Choice of a Camera Coats Camera Scarf Strap – $25 value – Website
DAY 4 WINNER: Tori King
DAY 5:
October 18th - It's our 5th birthday!! Giveaway prizes include: Choice of a Theit camera bag - value up to $329 -
Website
Sew Trendy $150 couture clothing Gift Card - $150 value -
Website
Choice of a Camera Coats Camera Scarf Strap - $25 value -
Website
DAY 5 WINNER: April Gosnell Parker
a Rafflecopter giveaway